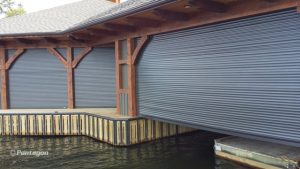 The humble awning. Ajax homeowners are becoming more familiar and comfortable with it as they learn more about the many benefits it can provide beyond simple shade.  Those benefits include:
Ramping up the curb appeal of your home.
Extending your amount of usable, personal space.
Protecting your family and guests from inclement weather.
Preventing the baking mid-day sun from infiltrating your home.
Raising your home's value both in aesthetic and bottom line terms.
Helping you save money on air-conditioning.
That last item is particularly relevant today when reducing energy consumption is so important. Readily available data indicates that the installation of awnings can reduce your air conditioning costs by 25 – 50%, depending on the number and size of your windows. That's great for your bank account but also great for the world you'll be leaving your kids.
Choosing the Right Awning for Ajax Homes
At The Shutter Professionals we help make your interior more beautiful and energy efficient but we don't stop there. We also offer an array of awning styles and configurations to help make your outdoor life more comfortable. These include:
Open Space Awnings – Contrary to much popular belief awnings are not all bound to the home itself. We offer a variety of free-standing, open space awnings that bring the shade and comfort to any part of the yard at any time of the day. Entertaining guests by the poolside on a sweltering day? Move one of our open space awnings into place and enjoy your afternoon.
The Window and Facade Awning – Ajax homeowners are sophisticated types always looking for a better way to do things. If you're looking to keep your home cooler during the dog days of summer window and facade awnings are the answer. If you live in close proximity to other homes they also provide protection against prying eyes and camera laden drones.
Balcony, Deck and Terrace Awnings – Deck owners are often driven indoors on summer days by the unrelenting sun. By the same token balconies and terraces can become uninhabitable on blue sky days. Turn the tide on the sun by installing awnings over your balcony, terrace or deck.
Atrium Awnings – Atriums can be wonderful places to relax with a good book but unless you have some way to generate shade they can also become useless during the midday period. The same can be said for conservatories. Bring these spaces back into the useful fold all day long by installing conservatory or atrium awnings.
From Colonial to Contemporary
At The Shutter Professionals we're the source for everything awning in Ajax. All our awnings are made from the highest quality materials to withstand the rigors of the outdoor environment and all are more affordable than you think. Regardless of whether your home dates from the Colonial period, is a 19th century Victorian or just came off the drawing board we have awning that will fit it like a glove. Call or visit us to find out more about how awnings can add value and comfort to your Ajax home.