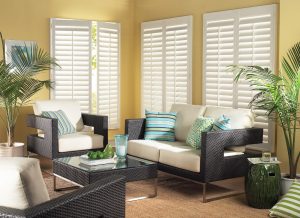 Since the incredible boom the town experienced at the end of the 20th century Pickering has settled into a relaxed maturity perfectly in keeping with the easy going, sophisticated people who live here. Today, The Shutter Professionals are an important part of this vibrant community providing first-class window solutions that allow homeowners and businesses to enhance the look and feel of their interiors without breaking the bank. When it comes to blinds in Pickering no one offers a more extensive variety at more competitive prices.
Timeless, Affordable Blinds in Pickering
We offer blinds in an array of colours, materials and textures to enhance every home and business environment and all for extremely competitive prices. Our team of window covering specialists have many years of combined experience and our installation technicians are the best in the business. When you choose The Shutter Professionals to provide your blinds you're choosing quality and value you won't find anywhere else.
Dedicated to Serving your Needs
At The Shutter Professionals we have all the bases covered from design consultations to sales, installation and service. We're committed to serving the needs of our Pickering clientele and providing them window treatment solutions they can depend on and enjoy for years to come. To that end we offer four primary types of blinds in Pickering:
Wood Blinds – Our wood blinds are crafted from premium basswood that provides your room with a timeless feel the way only natural materials can. They're available in 2" slat with an array of colours to choose from. Further enhancement is also possible through the use of decorative tapes. Wood blinds are perfect for living rooms, libraries and bedrooms.
Faux Wood Blinds – When you need something that's better able to stand up to environmental challenges like high humidity, heat and more faux wood blinds are your answer. They're ideal for the kitchen where temperatures can vary depending on what's cooking and their resilient hybrid composition also makes them easy to clean.
Aluminum Blinds – If you're looking for a cost-effective way to enhance the look of your office or retail space aluminum blinds are ready to answer the call. Low maintenance, long lasting and effortlessly attractive they'll provide your business with subtle contemporary design cues that both staff and guests are sure to appreciate.
Vertical Blinds – Horizontal blinds are not always the best choice for larger windows. In that case you'll want to explore the myriad design possibilities of vertical blinds in Pickering. Vertical blinds add a sophisticated touch while still performing practical tasks; like keeping the sun at bay so your air conditioning costs won't go through the roof.
Call us Today to Learn More
If you're looking for an affordable way to spruce up the decor in your home or office The Shutter Professionals are the company to call. We provide flexible, affordable window covering solutions to homeowners and business across the GTA and will have just the right window solution for you. Give us a call or stop by our showroom to learn more about how the right blinds can activate your interior design.