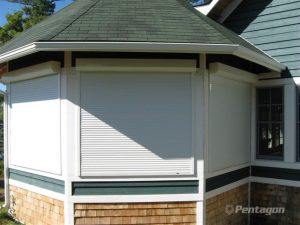 Making sure your home or business is properly secured has never been more important than it is today. While CCTV and other surveillance technology can help track down some perpetrators after the fact it actually does little to deter crime. What you need is a barrier that can keep intruders out when you're not around, instead of simply filming them inside as they walk away with your things. Security Shutters for Durham homes and businesses are that barrier.
Commercial Security Shutters Durham
Installing security shutters from The Shutter Professionals in your Durham business is the common sense way to make sure your store, retail shop or facility is always ready to go when you arrive to open up. They're as essential to the security of your business as the anti-theft device is to the security of your car. Businesses use shutters in a variety of ways, including to secure:
●        Storage spaces

●        Storefronts

●        Cafeteria windows

●        Pharmacies

●        Public kiosks

●        Entry/Exit booths and more…
By installing stylish but tough commercial security shutters business owners also stand to enjoy a substantial reduction in their insurance premiums.
Residential Security Shutters
The notion that business owners are the only ones with something to protect has gradually been giving way to an awareness that security shutters can also have an important role to play in household security. Since security shutters for Durham homes are no longer the clanking metallic eyesores of old it makes sense that you'd want to take advantage of what they have to offer by way of keeping your loved ones and your valuables safe. Today's stylish, quiet, effective residential shutters are used to secure:
●        Outdoor kitchens

●        Floor to ceiling windows

●        Cabanas

●        Pool houses

●        Vacation homes by the beach

●        Boat houses and more…
Meet the Threat with Style and Grace
In the past the words "security shutter" conjured up images of noisy steel grates slamming to rest at the bottom of huge rusty tracks. Thankfully, those days are over and today's security shutters are available in a variety of discreet styles, colours and surface textures that allow them to blend in perfectly with your home's overall design.
The Case for Residential Security Shutters
The reasons for installing residential security shutters are many and include:
To protect your windows during blizzards and other extreme weather events.
To send an unequivocal message that your home is not to be trifled with.
To reduce your homeowner's insurance premiums.
To aid in your energy efficiency efforts.
To replace old and unsightly security bars.
To enhance your home's fire prevention profile.
True Security Has Never Been More Affordable
Perhaps the best thing about security shutters for Durham homes and businesses is that they're more affordable today than at any time in the past. Which makes them a great value as well. If you'd like to ramp up the security at your home or business call The Shutter Professionals today and find out more about how stylish, affordable rolling security shutters can help do just that.