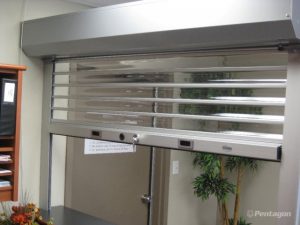 Window shades have been in common use since the mid-18th century and have effortlessly adapted to changing tastes and styles. Today they're the most common form of window covering and are available in a dizzying array of styles, fabrics, textures, colours and more. At The Shutter Professionals we provide a wide array of window shades for Ajax homeowners and take pride in both the quality and affordability of our product offerings.
When you Need Shades in Ajax Call the Professionals
Finding just the right shades in Ajax to activate your window treatments is as easy as visiting The Shutter Professionals. Our team members are highly trained and have many years of combined experience in both the aesthetics of interior decor and the practical considerations that go into choosing the right window shades. Our first class window shade offerings include:
Sheer Shades – Our sheer shades hover before the window lending an elegant, airy touch to the decor. Crafted from floating, semi-translucent louvres they're easily incorporated into myriad design schemes where they can either occupy the foreground or provide an easy backdrop.
Pleated Shades – Whether evocative jacquards, tone on tone prints, solid or with metalized backings our pleated shades introduce the essence of old world craftsmanship and provide the perfect accent to interiors ranging from Victorian to mid-century modern.
Dual Shades – Dual shades endow your home or office with a clean contemporary feel that's as distinctive as it is practical, providing strong horizontals that beautifully complement solid walls. Automated dual shades are also available to ramp up the contemporary atmosphere.
Cellular Shades – Cellular shades are available in a variety of compelling colours, shapes, patterns and textures that are all great at keeping the warmth inside during the winter and outside during the summer. Available in single or double cell designs and a range of opacity levels.
Roller Shades – At The Shutter Professionals we offer Roller Shades customized to fit your home or business. Choose solar shades, envirogreen shades, grasscloth and more in a full range of opacity levels from 1% to blackout. Available in manual or automated with an array of valance options.
Printed Shades – Our custom printed shades add a unique air to your decor. Available in the most sophisticated patterns or with bold, upbeat graphic themes for the kids' room they're as versatile as they are practical and beautiful.
Panel Tracks – Panel tracks provide the perfect solution for large windows. They allow you to embrace a handcrafted feel that isn't overwhelmed by scale. We encourage clients to think outside the box with panel tracks as they make compelling room dividers as well as first class window coverings.
The Shutter Professionals Have the Shades you Need
Finding the right shades in Ajax to complement and inform your decor can be a tedious process; unless you enlist the help of the experienced team of design pros at The Shutter Professionals. Stop by or give us a call today and discover just how affordable quality window coverings can be.