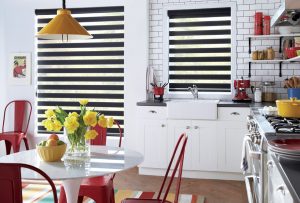 The humble window shade has found a permanent place in the contemporary home because of its extreme versatility and the sheer variety of styles, colours, patterns, textures and materials you have to choose from today. No other window covering provides as many design options as window shades and it's not even close. The window shades we sell, install and service at The Shutter Professionals will let you ramp up the style and comfort of your home without draining your bank account.
For Highest Quality Shades, Whitby Looks to The Shutter Professionals
The right window shades can come to the rescue of virtually any decor and the shades we offer at The Shutter Professionals are the finest available in the GTA. We search high and low for the highest quality window shades and as a result every shade in our inventory is a premium decor item including:
Pleated Shades – A world of luxurious pleated shades await you at The Shutter Professionals. From breathtaking prints to luscious jacquards our pleated shades in Whitby are a cut above the competition. It's old world meets new when you browse our pleated shade offerings.
Dual Shades – Dual shades evoke classic Hollywood images but they're more than just the backdrop to your favourite noir mystery. They're design intensive decor components that allow you to introduce structure in a non-intrusive manner.
Sheer Shades – Sheer

shades for Whitby

homes are in some ways the opposite of our dual shades. Sheer shades can be a diaphanous presence floating alone before the window or a single component of a larger window treatment.
Roller Shades – Our roller shades are designed to give your home or business a subtle lift while also allowing you easy control of lighting conditions. We offer a range of roller shade styles from solar to envirogreen to grasscloth and more in opacities from 1 to 100% percent.
Cellular Shades – While many of our other shades do an admirable job of keeping the heat in our solar shades are built with both style and insulation purposefully in mind. They're available in a wealth of colours, shapes, textures and materials as well as single or double cell design.
Printed Shades – Our printed shades are a great way to express your individuality and are available in an array of patterns and colours. Whether you're looking for the finishing touch for the kids' room or a way to bring calm and class to the den our printed shades answer the call.
Panel Tracks – If you have oversized windows in your home that face out on to a deck or the yard you know that finding appropriate, workable coverings for them can be a challenge. Panel tracks allow you to break the window acreage up into manageable sections.
Give us a Call
For the highest quality most affordable designer shades in Whitby contact The Shutter Professionals and talk to one of our window treatment experts. They'll set you on the right track to the window coverings that will make your residential or business space come to life.