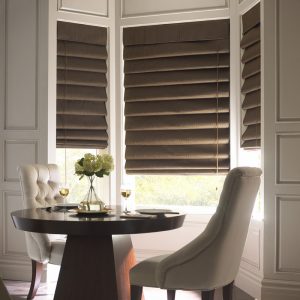 At The Shutter Professionals we specialise in beautifully designed and realised interior window shutters for the home. Window shutters add interest and value to a variety of interior decor styles from Colonial to Minimalist and virtually everything in between. Our shutters are available in a wide variety of styles, textures and colours and are fabricated from only the highest quality materials. They're also produced locally in the GTA by dedicated craftsmen with years of woodworking experience. If you've been looking for the perfect way to activate your interior design window shutters could well be the solution.
Shutters Whitby: Beauty and Practicality
Shutters have earned a place in the pantheon of timeless decor elements alongside hardwood floors, granite countertops and copper cookware. They're far more versatile than they seem and adapt easily to a variety of decorative schemes and individual tastes. Interior shutters from The Shutter Professionals are available in a variety of materials and types including:
Wood Shutters – The classic wood shutter occupies a special place in the heart of designers and traditionalists near and far. They open a window to the past without closing the door on the present or future. Their strength is their versatility and the universal appeal of the material and they're built to last by our skilled artisans. Classic wood shutters in Whitby are a virtual no-lose proposition that will make your home safer, more beautiful and yes, more valuable.
Vinyl Shutters – Vinyl has become an important building material in the contemporary home; appreciated for its versatility, durability, non-conductivity and affordability. So it was just a matter of time before vinyl shutters took off with homeowners. Now that they have the only questions seems to be: "What took so long?" Vinyl shutters from The Shutter Professionals are available in an array of colours, finishes and sizes that will match with any interior design scheme. They're also waterproof, won't ever rot and never need painting.
Composite Shutters – When it comes to choosing

shutters for Whitby homes

more people are opting for composite every year, and it's easy to see why. Composite shutters feature a solid wood core with a tough as nails, maintenance free exterior that effectively mimics a variety of surfaces including that of natural wood. Whether you're putting the finishing touches on your townhouse or the cabin by the lake composite shutters make sense.
Specialty Shutters – If you have a window or two you've always found it difficult to dress our specialty shutters are here to help. They're built to accommodate whatever window size and shape your architect can or did dream up. They're made of a composite of natural wood and high quality vinyl, they fit the oddest of sizes and need virtually no maintenance over the course of their long life.
Contact The Shutter Professionals Today
If you're looking for a design solution that will stand the test of time without emptying your bank account timeless, evocative window shutters for Whitby homes should be at the top of your list. Give The Shutter Professionals a call today and find out more.