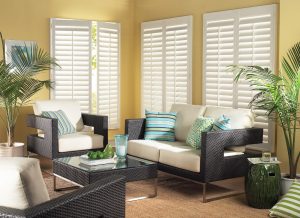 When you're shopping for window coverings, you have a lot of choices to make. The first is which type to go for. Should it be drapes, shutters, blinds or shades? In this post, we'll tell you why blinds are a great choice. Read on to find out what they can do for your home.
Why You Should Consider Installing Blinds in Your Ajax Home
Here are just some of the benefits you can enjoy if you choose blinds for your windows.
Light Control – When you install blinds on your windows, you have more control over the amount of light entering the room than you would with curtains. You can choose how much they open or close, so you can get your natural lighting just right. You can also choose specific types of blinds, as well as fabrics and colour, in order to get the exact amount of light you're looking for.
Privacy – Letting light in doesn't have to mean compromising privacy. With blinds, you can allow lots of natural light to enter the room without having everything open. This is a luxury you don't have with drapes.
Ease of Maintenance – One of the main benefits of blinds is the fact that they're so easy to take care of. You don't need to pull them down, wash them, iron them, and hang them back up again. In most cases, you'll just have to give them a quick wipe down every now and then. This saves you lots of time and hassle in the long run.
A Variety of Materials – When you're shopping for blinds, you have a huge range of materials to choose from. This includes wood, faux wood, bamboo, vinyl, and a range of plastics and fabrics. You can pick out something that fits all your expectations and matches the furnishings and colour scheme of the room you're buying them for.
Freedom of Choice – With so many different styles and materials available to you, you've already got a huge range of options. Combine that with extra options for colours and patterns, and the possibilities are endless. If you can't find exactly what you want in a showroom, you can always get custom blinds in Ajax to satisfy your needs.
Energy Efficiency – Blinds provide a layer of insulation to your windows. This means that you can keep warm air inside during the winter and let it out during the summer, without splashing out. That's why installing blinds could cut your utility bills and save you money. It will also reduce your carbon footprint.
Where to Get New Blinds in Ajax
The Shutter Professionals are experts in window coverings and can help you choose the right ones for your home. Our expert consultants will guide you through the design process, showing you samples in our showroom to get a feel for what's available. Once you've made a decision, we'll take measurements, install everything for you, and give you a full warranty.